Wendy Christine Beard
10Jan1951 - August 1966
Not that Wendy died in 1966, but changed name to Kris.
This url stewart.sdsu.edu/wendy/
Updated: 13Feb2022

Wendy Beard = Kris Stewart, Professor of Computer Science, Emeritus 2013, at San Diego State University; joined the faculty in 1984 as Assistant Professor of Numerical Analysis

Nancy Beard [Douglas] (sister), Janet Douglas Beard (mom), Wendy Christine Beard (me), Wendell Otis Beard (dad)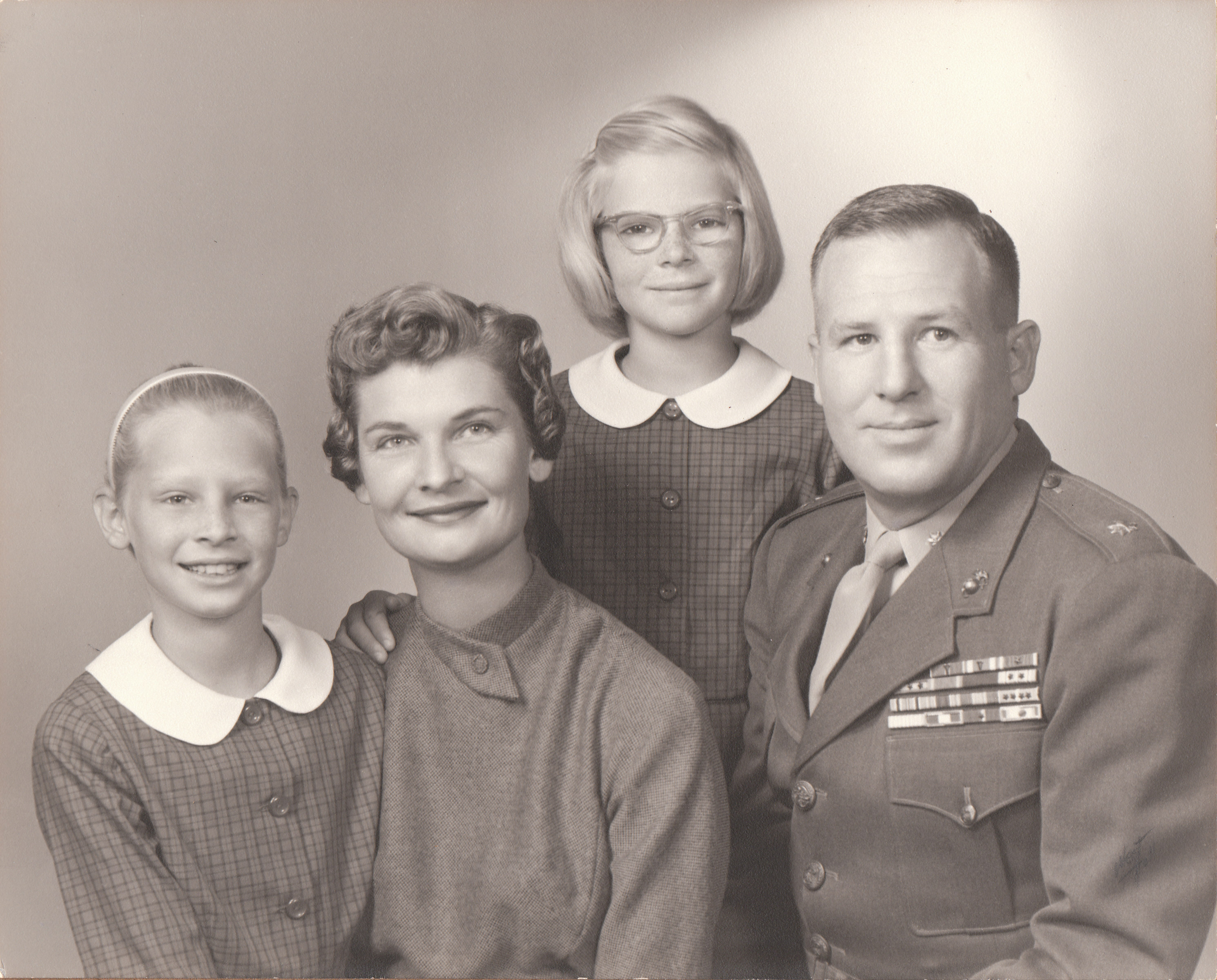 Beard Family Xmas Card Photo 1961? Wendy/Kris (next to the Major) is in 5th grade at Belinder Elementary School, Prairie Village, KS
---
Valid stories (in film) related to my life:
www.bratsourjourneyhome.com/ Brats: Our Journal Home "First Documentary about Growing up Military"
The Great Santini Glad dad had two daughters; no son could compete with him. "Women should be kept barefoot and pregnant", can be a motivator.
The Boomer Century: 1946-2046 PBS documentary timeline

---
I am proud to be called a Marine Corps Brat.
What is unique about this life?
You move every 2 or 3 years [I got one (1) moving carton for "my stuff", no wonder I'm a packrat now.]

1951: Wendy/Kris is born (Wednesday's Child) at Camp Pendleton while Dad is fighting in Korea.
1951-3 Capistrano Beach CA
1953-1955 Parris Island SC
1955: Stationed at MCAS El Toro Wherry Park housing [1st Marine Corps base we lived on that no longer exists, Orange County changes ...]
Playland Nursery School. Wendy row 2 next to last with pigtails

1956-8: Kindergarten and 1st grade at Barbers Point Naval Station while we were stationed at NAD Waikele (Naval Ammo Depot), lived on base. Oahu was still a territory. Waimea had not been surfed and was off-limits to military. Magical time. Now know that they stored NUKES for the Pacific fleet here. Waikele History pdf, online WSS [2nd Marine Corps duty station that no longer exists]
15June1958 Hula Certificate SS Leilani cruise ship returning to CA

1958-60: stationed Camp Pendleton, living off-base in Vista. 2nd and 3rd grade at Santa Fe Elementary School, Vista, CA. Get to Disneyland yearly for Camp Pendleton night [no A- B- C- D- E-tickets for that night].
1959 movie Gidget is released (IMDB)


2ndGrade Brownie troop 3rdGrade 1959 certs brownie troop

1960-63: Kansas City while dad worked with the USMC Reserves. We lived in Prairie Village KS, with civilians. Attended Belinder Elementary School. Sandahl Bergman (wiki) was in my Girl Scout Troup. We watched NASA space shots at school in the halls.
Kirschner Nov62 horse
4th Mrs Bridgeman 5th Mrs ODell 6th Mrs McKenna
Scout troop train to Hannibal Mo - can you spot Sandahl Bergman? (4th from right)
Barn Nov59 Horse Cgold wMom 1960Jan14 VistaP BrownieTr
1960July Coarsegold moving to Prairie Village KS Grand Tetons Jackson Hole. SLC YellowSt
KC SciFair Exhibitor MySolarSys BalletC Page Wendy NgbhSchool
1963July Nancy, Wendy and cousin John at Disneyland, moving to MCS Quantico VA

1963-1966: Marine Corps Schools Quantico, Va, lived on-base and took bus to school. Had to keep up with younger sister Nancy when she joined the swim team. Nancy is double-jointed and a natural backstroker. I was mediocre and was used to fill out Medley Relay teams - all I had to do was swim 100m butterfly without being DQd (disqualified). Eventually you develop a fairly efficient stroke. NYC UN Steps Cap 63fitit 64fit Fscore W-award 7th KirstenM&me Sum95Williamsburg 7th & 8th names-JRussel class

1966-1969: back to Vista CA so dad could prepare and to go Vietnam war. Unique for a Brat to spend high school in one location. I lucked out because Lincoln Jr. High and Washington Jr. High both fed Vista High [VHS], so I fit in more easily.

Kris Beard is created when we turn in QuanticoVA school records to VHS. Thanks Janet, my mom, for support
Vista Backyard Kris VHS'69; Nancy VHS'70

1969-1973: UCSD math major and I fall in love-at-first sight with Glen Stewart, the Santa Cruz surfer from Los Altos Hills. My dorm suite mate Carolyn went to LAHS with Glen and Gary Brink, who were cruising the dorm halls first night in the dorms.
Dad stationed @ Pendleton until 1975 or so when he retired from the Corps.

Besides moving so often, being raised up as a military dependent is unique:

If a child misbehaves, it goes on the parent's military service record and may impact their career.

Big difference living-on base with fellow "brats" or off-base with civilians.

Each change of duty the family would make the big trip to visit the relatives [Aunt Dorothy Summers (Janet's sister) & Cousin John in La Habra, Grandpa Don Douglas (Janet's father) at cattle ranch in Coarsegold, Mimi (Janet's mother, Selma Douglas) in Whittier, Grandma/pa Beard (Wendell's parents) in Sacramento, later Harper, Kansas.]
---
Wendell O Beard, Father
Janet Douglas Beard, Mother

Don Douglas, Janet's father, and their whole family spent summers in the High Sierras, Mammoth Lakes. The Mammoth Lakes Pack Outfit is now run by John Summers, Kris' cousin, Janet's nephew.
---
Rough Timeline for Kris Stewart; Return to Kris Stewart's Home Page