Leonard Nimoy, Mr. Spock, Star Trek and their effect on Kris Stewart
stewart@sdsu.edu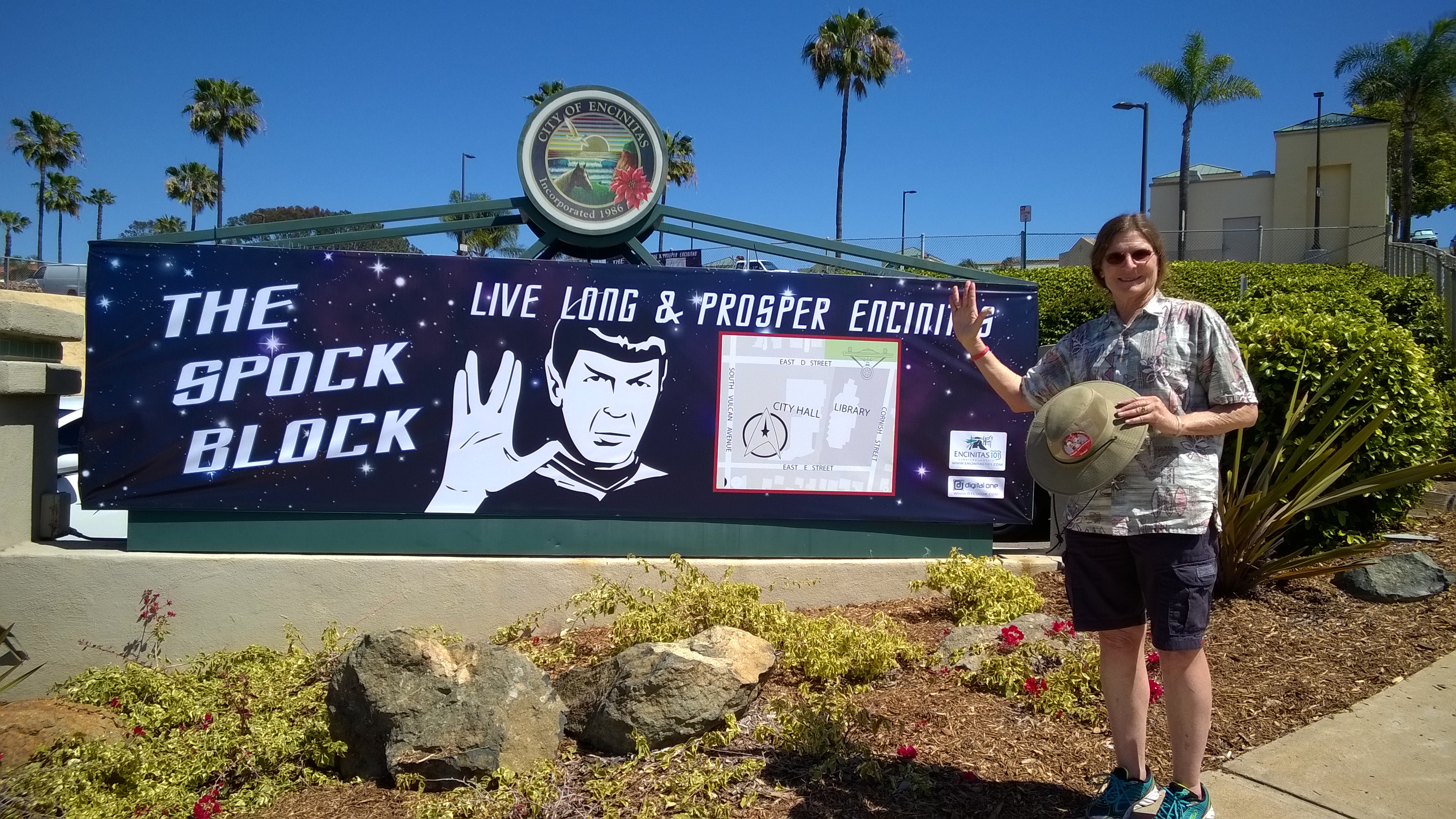 The City of Encinitas, led by Council person Tony Kranz, decided to honor Leonard Nimoy with "Spock Block" for a week, off Vulcan Avenue including City Hall area and the county library. I wore my vulcan ears and attended the council meeting,15march2015, when they would decide this issue and was really happy it was appoved to start on Leonard Nimoy's birthday 26March. But how was I to know that Glen and I got married on LeonardN's birthday.

Glen had made reservations for us at the Paradise Pier Hotel, Anaheim, 11th floor with view of DCA (Disney California Adventure). He also made dinner reservations at the Carthay Circle Restaurant to celebrate our anniversary with Disney. Therefore, I missed Encinitas' first Spock Block, due to the conflict with our 40th wedding anniversary, but returned to town while the sign was still up - see above. Now I am working to ensure we have Spock Block again next year, and Glen and I will stay local.
www.encinitasadvocate.com/news/2015/mar/19/spock-block-encinitas-leonard-nimoy/ Encinitas Advocate story

www.utsandiego.com/news/2015/mar/19/encinitas-oks-temporary-spock-block/ Union Tribune story

---

variety.com/2015/film/news/leonard-nimoy-son-spock-documentary-1201461815/ Leonard Nimoy's Son Adams Plans Spock Documentary

Leonard Nimoy's son talks about his dad and plans for documentary


---

Fringe TV show - www.youtube.com/watch?v=eVFNNWLCXPo Interview with L Nimoy about Fringe TV series

I had missed this show on broadcast TV, but had it recommended to me by my neighbor. Purchased the entire 5 seasons on BluRay and loved it! www.youtube.com/watch?v=p_go1SU1oJ0 - Big Reveal, Finale Season 1 "I am William Bell"

www.youtube.com/watch?v=hCWjCpcp0Ag Fringe 2.22 Scene - Bell's End
www.youtube.com/watch?v=94l9dssj0HU&list=PLuih8n1Uu9GbrUb51cpCV0-F9-6L_u304 Olivia remember William Bell 1 of 2
https://www.youtube.com/watch?v=Tcz1D_OY0iY here's part 2 of 2

---

Have you seen Vincent? Available from Netflix

---

Live Long and Prosper The Jewish Story Behind Spock, Leonard Nimoy's Star Trek Character

For fans of the Big Bang Theory, the closest we got to having Sheldon and Spock together was the voice-over of Leonard Nimoy speaking to Dr. Cooper. It's still hilarious!


---

Bruno Mars - The Lazy Song [Alternate official video with LNimoy]